Back
Trekking
Breath the fresh mountain air and enjoy the spectacular views.
Up-to-date information on the accessibility of the trails.
The Val Bregaglia offers a large network of 260 km officially marked hiking paths, leading through forests and above mountains - a true paradise for hikers. This is to be taken literally, as our valley lies not only between 690 and 3369 metres above sea level, but also on the border to Italy. To the north and south, surrounded by three thousand meter peaks, the landscape stretches along the river Maira and becomes more and more charming to the west. Hiking in Bregaglia means observing the constant change of nature: From the impressive high alpine surroundings you quickly descend to regions with a milder climate and Mediterranean flora.
---
A wide variety of hiking tours
The easiest trails often follow the course of the valley, such as the sections of the Via Bregaglia. Trips to side valleys such as Val Maroz or Val Forno are more demanding, as is our most famous hike on the Sentiero Panoramico, which winds its way along the sunny side of the valley as an alpine path and offers spectacular views. The greatest challenges are the hikes which lead directly up the mountain – in Val Bregaglia quickly 1000 metres of altitude. And finally there are the tours lasting several days, which lead over historic passes into the neighbouring valleys: to Juf into the Avers Valley or to Chiareggio into Val Malenco. The terrain is very varied, there are highly demanding alpine hiking trails and simple farm tracks.
---
Cultural hikes and trekking
The Bergell has always inspired artists, culture and nature are no contradiction here. Accordingly, there are many cultural hiking trails such as the Sentiero Segantini or the routes along the testimonies of the Giacometti family. Castasegna offers a chestnut nature trail, which provides a wealth of information about this important fruit in Bregaglia; for children, the smugglers' trail to Lake Bitabergh is an adventure.
---
Long-distance hike
The Bregaglia is also located on long-distance hiking trails, which can be booked as packages. For example the Via Bregaglia or the Via Sett. The Via Engiadina also starts here and the Via Spluga is just a stone's throw away.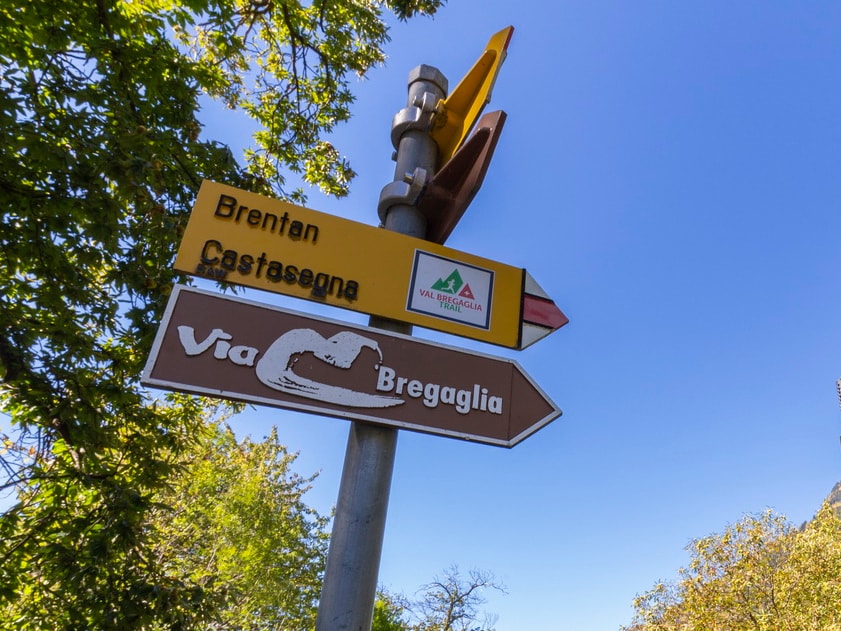 ---
High Mountain Hikes

For experienced hikers in the Bregaglia there are many Alpine passes to cross and peaks to conquer. In the Maloja area, the Lunghin and Margna peaks offer breathtaking views of the Engadine and Bergell. In the Forno valley, in addition to the homonymous peak, you can also climb to the peak of the Rossi or cross the Casnile pass to reach the Capanna Albigna. The alpine paths are only partially marked in blue-white, have some exposed passages and are of high difficulty at hiking level (T5) - recommended only for hikers free of vertigo, sure-footed and with knowledge of the alpine environment.
Pdf Fairtrail, Fairtrail | Graubünden Ferien (graubuenden.ch)