Back
Gastronomy
Fine dining in Val Bregaglia
The Bregaglia Valley is characterised by culinary boundaries and differences - wholesome mountain cuisine meets Italian elegance. Many regional delights find their way to the plates. The chestnut specialities, whether sweet or salty, give the dishes a special charm. And of course the mountain cheese, which is served in polenta, with pizzoccheri or pure on the table. Or the game specialities and mushrooms that come from our forests. Let us spoil you, every restaurant has its own special menu! Here on this page, we would like to briefly introduce you to the restaurants from Maloja to Castasegna.
In Maloja


Ristorante Bellavista

In Maloja Capolago a rustic and familiar atmosphere awaits you with dishes that are homemade from A to Z. The Bellavista offers delicious fish and meat dishes and relies on a seasonal, traditional and fresh cuisine. The pasta is also carefully made by hand. The meat fondue is also famous. The restaurant has 25 seats inside and a nice terrace outside.
Info: www.ristorante-bellavista.ch; This email address is being protected from spambots. You need JavaScript enabled to view it.; Phone: +41 81 824 31 95



Panoramic Mountain Restaurant Cavloccio

Cosy restaurant on the beautiful Cavloc lake. The terrace is framed by mountains and offers a view over the whole lake. Regional products, dried meat from our own production, game ragout with black or yellow polenta, goat's cheese from the Alp Cavloccio, alpine cheese from Vicosoprano and homemade cakes are served. The mountain restaurant can be reached in about 1 1/2 hours also with prams.
Info: Pictures and info on Graubünden. No phone.

Ristorante Chesa Alpina

The Ristorante Chesa Alpina is the home of pizza, there are about 20 different flavours. Delicious are also the many different Italian pasta dishes: spaghetti, lasagna or chestnut tagliatelle. Risotto & polenta should not be missing. The ambience is simple but cosy. After a hike you can also enjoy the sun in the garden, Bregagliotto style.
Info: www.alpina-maloja.ch, This email address is being protected from spambots. You need JavaScript enabled to view it.; Phone: +41 81 824 33 33


Hotel Restaurant Kulm

The oldest hotel in Maloja serves regional and seasonal dishes, which can be enjoyed in the modern and bright dining room or on the terrace with spectacular views of the Muretto Pass. Right next to the hotel building is the Bistrot Kulm, an ideal place for a stopover at the Maloja Pass. Here you can enjoy simple meals, coffee and cake.
Info: www.malojakulm.ch; This email address is being protected from spambots. You need JavaScript enabled to view it.; Phone: +41 81 834 19 16
Hotel Restaurant Lagrev, Isola

The Hotel Restaurant Lagrev in Isola is characterised by its special location – it can only be reached on foot and is situated directly on the shores of Lake Sils. Here the cuisine is unpretentious: Chestnut tagliatelle or gnocchi, polenta with sausage or venison ragout from local hunting. In addition there are fresh salads from the garden or goat cheese directly from the alp. Very fine are also the cakes, which are freshly baked every day. On Sundays there is also a brunch.
Info: www.lagrev.ch; This email address is being protected from spambots. You need JavaScript enabled to view it.; Phone: +41 81 824 35 91
Hotel Restaurant Longhin

Modern and casual: this is the atmosphere at Longhin restaurant. There is delicious pizza, which is always an option, or more regional dishes: The chestnuts come from our their chestnut forest in Plazza, below Soglio; they are processed into tagliatelle, gnocchi or soup. Dominik and his kitchen team cook everything with fresh ingredients as well as according to their own recipes.
Info: www.longhin.ch, This email address is being protected from spambots. You need JavaScript enabled to view it. Phone: +41 81 824 31 31


Hotel Restaurant Schweizerhaus

The Schweizerhaus offers four restaurants at once: On one hand, there's the traditional Engadiner Stübli, which is particularly popular for the various cheese fondues, raclettes and meat fondues as well as the Grisons specialities. On the other hand, the elegant Orsini Restaurant, where a varied gourmet cuisine will spoil you - for example medium-fried Chateaubriand or trout Müllerin Art. There's also a large terrace to sit outside and enjoy the sun.
Info: www.schweizerhaus.swiss, This email address is being protected from spambots. You need JavaScript enabled to view it.; Phone: +41 81 838 28 28
In Vicosoprano
Barpunto

In the small shopping centre in Val Bregaglia, called the Punto Bregaglia, there is also an Italian style bar. That means caffè and cornetto for breakfast, later drinks and aperitifs, in between small meals, either inside or outside on the terrace. On weekends it is even open until 2 am for night owls.
Info: www.puntobregaglia.ch, Phone: +41 +81 822 10 69
Albergo Corona

The Albergo Corona in Vicosoprano is a traditional house. The Arvenholzstube radiates cosiness, and the menu is just as much about the regional cuisine of Switzerland and Val Bregaglia. There are homemade pasta and polenta, but also Rösti and grilled dishes. The chef also prepares specialities on request. In summer you can relax at the stone tables in the courtyard.
Info: www.hotelcorona.ch; This email address is being protected from spambots. You need JavaScript enabled to view it.; Phone: +41 81 822 12 35


Panoramic snack bar Durbegia

The Albergo Corona also runs a small snack bar, located directly on the route of the Sentiero Panoramico. Here you can find simple cold dishes (goat cheese, sausage) and delicious cakes. The coffee from the cafetiera is good and strong. The view is phenomenal. It is a perfect resting place along the Panoramico, from Durbegia it takes two hours to hike to Soglio.
Info: www.hotelcorona.ch; This email address is being protected from spambots. You need JavaScript enabled to view it.; Phone: +41 81 822 12 35


Albergo Ristorante Piz Cam

Here we are in the heart of Vicosoprano, right at the central piazza, and yet there is a very nice and cozy garden. The kitchen spoils you with specialities from Val Bregaglia and Valtellina, and their composition is always innovative. The ingredients come from the region and are seasonal. On request there are also vegetarian or gluten-free dishes.
Info: www.pizcam.com; This email address is being protected from spambots. You need JavaScript enabled to view it.; Phone: +41 81 822 12 80
Hotel Pranzaira

The Hotel Pranzaira is located above Vicosoprano, directly at the foot of the cable car up to the Albigna dam & climbing area. It is ideal for a stopover on a hike, not least with its wonderful panoramic terrace which offers a view of the valley. Here, too, we find an easy regional and seasonal cuisine as well as offers for coffee and cake.
Info: www.pranzaira.ch, This email address is being protected from spambots. You need JavaScript enabled to view it.; Phone: +41 81 822 14 55

In Stampa
Bistro d'Arte La Stala

The Bistro d'Arte La Stala is located in the immediate vicinity of the Palazzo Castelmur in Stampa Coltura. In a converted former stable, you can take a break and enjoy a meal, either surrounded by art (inside) or by cosy chestnut trees (outside). During the day simple dishes are served, in the evening the hostess Franca offers delicious variations in several courses on request.
Info: Facebook-page, This email address is being protected from spambots. You need JavaScript enabled to view it. Phone: +41 79 458 31 36

Hotel Restaurant Val d'Arca

Perfectly located in the centre of Stampa and right next to the bus stop, the Val d'Arca serves cheese and dried meat from local farmers, wine from the canton or from nearby Valtellina, hot dishes such as polenta with ragù and cheese or homemade pizzoccheri. Before departure or after a visit to the Ciäsa Granda Museum you can enjoy a fine espresso and a piece of homemade cake.
Info: www.hotelvaldarca.com; This email address is being protected from spambots. You need JavaScript enabled to view it.; Phone: +41 81 822 13 65


In Promontogno

Hotel Restaurant Bregaglia

The construction of the Hotel Bregaglia, dating back to the turn of the last century, surprises at the Promontogno post station. Most conveniently, it's connected to a restaurant. This makes it easy to shorten the waiting time for the post bus. Here, excellent pizzoccheri are served as well as fine specialites from Val Bregaglia and Valtellina. The view from the sun terrace down into the valley is beautiful.
Info: This email address is being protected from spambots. You need JavaScript enabled to view it. phone: +41 81 822 17 77

In Bondo
Crot da Bond

On the road between Promontogno and Bondo there is the only crotto of the Bregaglia Valley that is still actively operated: the Crot da Bond. It is open on weekends and offers a simple cuisine. Occasionally, however, barbecues, concerts and other events are on the programme. There is also a unique boccia court under the tall chestnut trees. Come, relax and enjoy.
Info: Facebook-Seite; phone: +41 78 302 63 43.

Osteria Donato Salis

The Osteria Salis is both: grocery store and restaurant. It is located in the heart of Bondo, in the central piazza, framed by the ancient church and the massive patrician houses. Accordingly a seat to see and be seen is guaranteed. The cuisine is simple, regional and seasonal. It is also a wonderful place to enjoy an aperitif or a coffee.
Info: phone: +41 81 822 1106

In Spino
Hotel Restaurant Fanconi

The small village of Spino also has its hotel restaurant, which spoils its guests with simple home-style cooking. Dishes like polenta with spezzatino (italian stew), risotto, pizzoccheri or homemade specialities are prepared with love. In summer you can sit comfortably on a terrace overlooking the peaks of the Sciora group, in winter you can enjoy the fireplace in the dining room.
Info: www.hotelfanconi.ch; This email address is being protected from spambots. You need JavaScript enabled to view it.; phone: +41 81 822 18 55


In Soglio
Hotel Restaurant La Soglina

Likewise, the hotel restaurant La Soglina scores with a grandiose panorama terrace that is located at the western edge of the village of Soglio. The kitchen is traditionally home-style cooking and serves many specialties with game and chestnut. The large menu also includes pasta, such as gnocchi, tagliatelle and lasagne, all homemade of course.
Info: www.lasoglina.ch; This email address is being protected from spambots. You need JavaScript enabled to view it.; phone: +41 81 822 15 94
Hotel Restaurant Palazzo Salis

Dining in the Palazzo is an event: whether in the 17th century hall or in the spacious garden with sequoia trees, box hedges and colourful flowers. Riccardo Cicognani's cuisine is seasonal with many creative influences. No matter whether you prefer a classic recipe from Val Bregaglia or Valtellina, connoisseurs will get their money's worth. Moreover, you can enjoy an aperitif on the terrace.
Info: www.palazzosalis.ch; This email address is being protected from spambots. You need JavaScript enabled to view it.; phone: +41 81 822 1208

Hotel Restaurant Stüa Granda

Right at the entrance to the village of Soglio, the Hotel Restaurant Stüa Granda is located, its panoramic terrace is legendary. Here you can sit in the sun for a long time in the afternoon and enjoy fine food: There are traditional specialities from Val Bregaglia, newly and modernly served by Alessandro Gianatti with lots of imagination, including many chestnut dishes. Even the plates are a feast for the eyes!
Info: www.stuagranda.ch; This email address is being protected from spambots. You need JavaScript enabled to view it.; phone: +41 81 834 03 33
In Castasegna
Hotel Garni Post

The Garni Post in the village of Castasegna is a traditional house, but offers hot meals only occasionally - for example during the Chestnut Festival. Nevertheless, the terrace or bar is ideal for a small aperitif or a quick coffee before the departure of the post bus. Additionally, small snacks and cakes are served.
Info: www.garnibarpost.ch; This email address is being protected from spambots. You need JavaScript enabled to view it.; phone: +41 81 822 10 60

Pasticceria Caffè Salis

The Caffè Salis in Castasegna is very cosy: both inside and outside it has a few tables that face the village square. All day long you can enjoy hot and cold drinks, accompanied by the finest cakes from Ursula Fogliada-Salis. In the summer months it is also open over noon and has small cold dishes like the local goat cheese. Closed in the evening.
Info: Facebook-page; This email address is being protected from spambots. You need JavaScript enabled to view it.; phone: +41 81 822 18 86


Hotel Restaurant Pizzeria Roccabella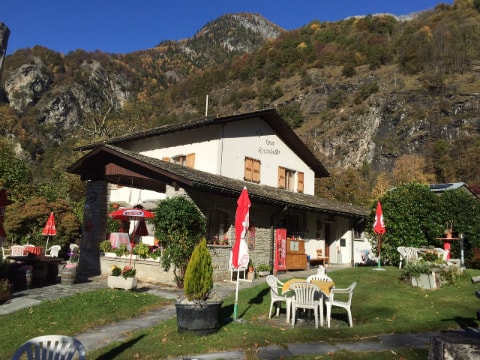 Nestled in the chestnut grove above Castasegna lies the Restaurant Roccabella. The cosy restaurant and the idyllic garden on the panoramic terrace serve local specialities as well as fish and various meat dishes from the charcoal grill. The freshly prepared pizza comes from the wood-fired oven. Selected wines are served with it.
Info: www.locandaroccabella.ch; This email address is being protected from spambots. You need JavaScript enabled to view it.Tel.: +41 81 8340077