Back
Via Bregaglia
Via Bregaglia - Nature, villages und culture
The Via Bregaglia leads as a path through the Bregaglia valley. From the alpine Maloja at 1800 m.a.s.l. to the mediterranean Chiavenna at 333 m.a.s.l. Fascinating to observe how climate, smells and plants change along the way. About halfway, near Promontogno, there is a hill across the valley, which the locals call "Porta", the gate. Above "sopraporta" there are spruces, larches & birches, it is rougher and sometimes there is still snow in March. Below "sottoporta", there is a mild climate, also the first palm trees can be found. On the Via Bregaglia you can always choose which direction to take and which section to walk.
The Via Bregaglia leads across the small villages: the paths between them are partly old roads, partly pretty and easy hiking trails. Along the way, there are museums to visit (especially in Stampa, but also in Vicosoprano) and many places to stop for refreshments. (Note: some restaurants and hotels are closed in low or mid-season, and shops are not always open). It is also practical that the post bus line 4 runs trough the valley, so you can always interrupt or shorten the hike.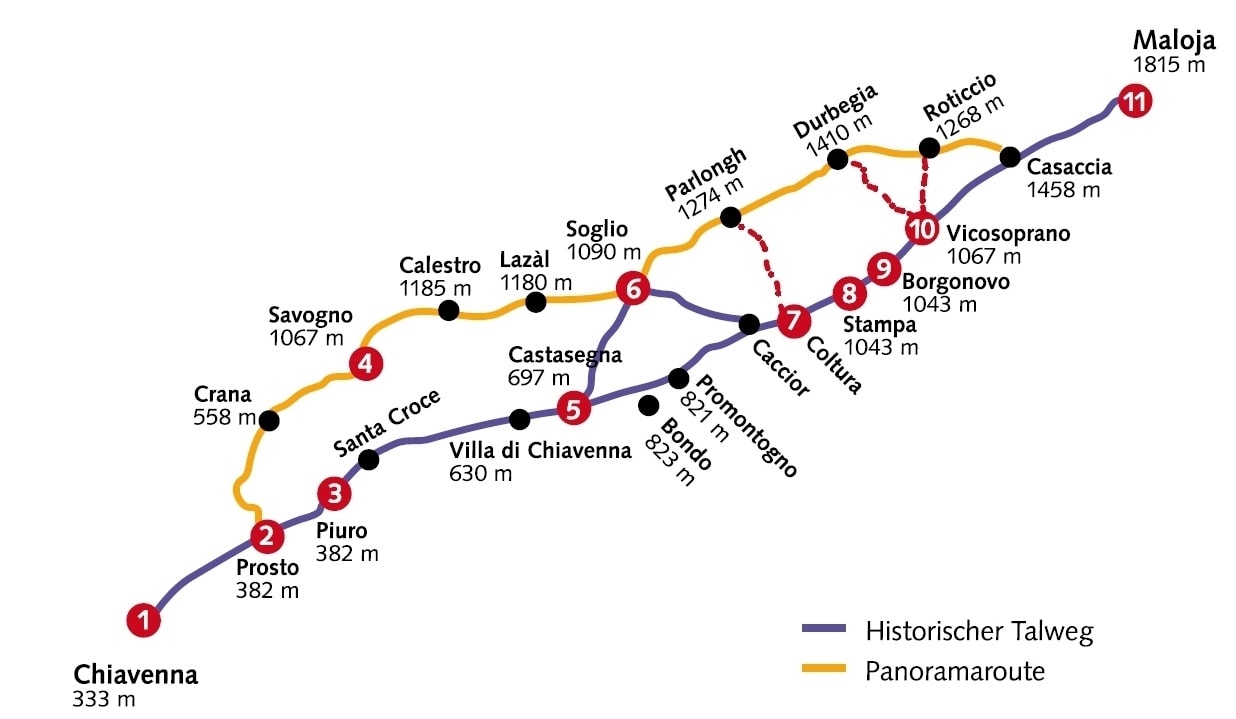 Walk without worries along the Via Bregaglia!
Bookable as package from June to the end of September with at least two weeks notice.
Package Via Bregaglia
4 nights in hotels
3 half board (without drinks)
3 luggage transport from hotel to hotel
3 packed lunches
1 hiking map and detailed documentation
1 parking card
Individual arrival to Maloja (not included in the price)
Dinner and overnight stay possible in these hotels:
Breakfast. Acceptance of the packed lunch and long hike to Vicosoprano or Stampa.

Hotel Schweizerhaus, www.schweizerhaus.swiss
Hotel Pöstli, www.schweizerhaus.swiss
Hotel Maloja Kulm, www.malojakulm.ch
Hotel Longhin, www.longhin.ch
Sporthotel, (nur mit Frühstück)

Arrival in Vicosoprano or Stampa.
Dinner and overnight stay possible in these hotels:
Breakfast. Acceptance of the packed lunch and hike to Soglio, Spino or Castasegna.

Hotel Pranzaira, www.pranzaira.ch
Hotel Piz Cam, www.pizcam.com
Hotel Corona, www.hotelcorona.ch
Hotel Val d'Arca

Arrival in Soglio,Spino or Castasegna.
Dinner and overnight stay possible in these hotels:
Breakfast. Acceptance of the packed lunch and long hike to Chiavenna.

Hotel La Soglina, www.lasoglina.ch
Hotel Stüa Granda, www.stuagranda.ch
Hotel Palazzo Salis, www.palazzosalis.ch
Hotel Fanconi, www.hotelfanconi.ch
Hotel Garni Post, www.labregaglia.ch/?p=29036 (Etagenbad)

4. Stage

Arrival in Chiavenna.
Overnight stay (without dinner) in one of these two hotels:
Breakfast und individual journey home (not included in the price)

Hotel Crimea, www.hotelcrimea.net
Hotel San Lorenzo, www.sanlorenzochiavenna.it
Hotel Conradi, www.hotel-conradi.com
Hotel Piuro, www.hotelpiuro.com
Price for 4 nights up to CHF 785.- per person in a double room and up to CHF 900.- in a single room. The price was calculated with the most expensive hotels. (Price 2021)

BOOK NOW